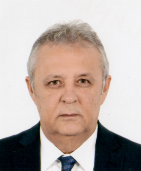 Haluk Ekinci
BOARD MEMBER
EKİNCİLER DEMİR ÇELİK SANAYİ A.Ş.
Ayazağa Yolu No: 7 Giz 2000 Plaza K:3 34398 Maslak – İSTANBUL
Mr.Haluk Ekinci was born in Adana, Ceyhan in 1959. He completed his primary, secondary education in Ceyhan and high school education in Karabuk. In 1984 he graduated from Wagner College Staten Island, Department of Business Administration (Newyork).
He started his business career at Ekinciler Foreign Trade Inc. in İstanbul in 1984 as an Import Responsible. In 1985 he became the Export Manager of Ekinciler Iron and Steel Ind.Inc. Then, in 1990 he continued his career as Member of Board of Ekinciler Investment & Securities Inc., at which he finally became CEO in 2004. During that period He has continued his Membership of Board of Finance Club.
Mr.Haluk Ekinci, who is the Chairman of Ekinciler Investment & Securities Inc. since 2004, speaks fluent english. He is married with three children.